The RMH Foundation exists solely to support Sentara RMH Medical Center and enhance its mission to improve health and promote wellbeing. Sentara RMH has been able to significantly improve the care patients receive because of gifts from our caring and generous community. One hundred percent of donations directly benefit patients and our community through the purchase of new equipment and support of compassionate programs.
Serving the needs of the community
Since its beginning in 1975, the Foundation has directed millions in donated funds to support a wide variety of needs at the hospital. A 20+ member board of community leaders governs the RMH Foundation. Board members, who serve without compensation, meet regularly to review the Foundation's activity – including how money is raised and how it is spent.
Current Board Members
Teresa B. Anders, Executive Assistant, Inter Change Group
Art Dean, Vice President, Diversity, Equity & Inclusion, James Madison University
Christopher Ellis, Market President, Truist
Steven Faught, Owner, Shenandoah Automotive & Rittenhouse Auto Service
Dr. Brooke Goodwin, Dentist & Business Manager, Cardinal Dental Specialists
Dr. Susan Kruck, Retired Professor, James Madison University
Dr. William I. Lee, Retired Cardiologist, SRMH Medical Center
Dr. Sophia Leung, Orthopedic Surgeon, SRMH Medical Center
Ruth Lorson, 10 year member, White Rose Giving Circle
James L. Mason, Past President, Virginia Poultry Growers Co-Op
Sherry Mongold, Finance Director, Sentara RMH Medical Center
Heather A. Morgan, MD, Medical Director, RMH Radiation Oncology
Doug Moyer, President, Sentara RMH Medical Center
Dennis Rawley, Past President and General Manager, Valley Implement Sales, Inc.
Paul Riner, Owner and Principal Broker; Riner Rentals
Mark Shickel, President, Shickel Corporation
Larry Showalter, Owner, Integrity Insurance Group, LC
Matt Sunderlin, Attorney, Clark & Bradshaw, PC
Diane Trobaugh, President, SRMH Volunteer Auxiliary
Dr. Emily J. Turzanski, DO FACS Breast Surgical Specialist
Dr. Karen Wigginton, Vice President, Corporate Marketing & Communications, Sunnyside Communities
Marshall Yoder, Attorney, Wharton, Aldhizer & Weaver, PLC
Past RMH Foundation Board Member Amelia Hall is Helping to Make a Difference
"PERHAPS THEY ARE NOT STARS IN THE SKY, BUT RATHER OPENINGS WHERE OUR LOVED ONES SHINE DOWN TO LET US KNOW THEY ARE HAPPY."
That saying holds special meaning for Amelia Hall and soothes her heart.
In June 1960, at age 7, Amelia lost her mother, Elizabeth Raines Michon, who was only 40, to breast cancer. Amelia has a few black-and-white photos of her mother, and most of her memories from that time are of her mother's illness.
"I remember her being in bed a lot when she was ill," she says. "Back then, there really weren't many options for cancer treatment. They didn't have chemotherapy or radiation therapy as we know them today, although they did have a few medications, plus surgery. My mom had a double mastectomy, and she was given numerous experimental drugs in an attempt to treat her disease."
Given those early childhood experiences, it's not surprising that today Amelia has "an absolute passion," as she puts it, for supporting cancer care and the Sentara RMH Hahn Cancer Center. She attributes that passion not only to her experi­ence of growing up without her mother, but also to the fact that today physicians can do so much more to detect, diagnose and treat cancer.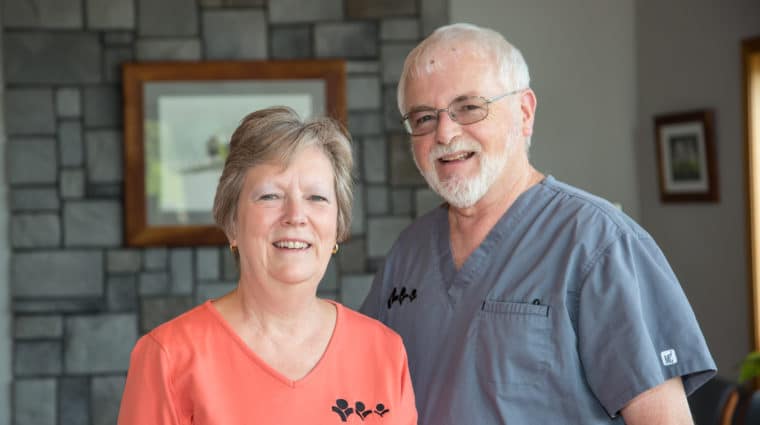 Another motivating factor for Amelia is the toll she has seen cancer take in the lives of those around her. Amelia worked for nearly 25 years as the business manager in her husband's dental practice in Harrisonburg. Over the years, they have known several dentists and families whose lives have been devastated by cancer. One of those families was particularly close to the Halls.
Former Harrisonburg dentist Dr. George Lawson lost his battle with cancer in 2000. His children, Katie and Andrew, were 20 and 15, respectively, when their dad passed away.
"They weren't as young as I was when my mother passed away, but I know it affected them deeply," says Amelia. "Katie, Andrew and our children grew up together, and we're still very close. Watching this family deal with the pain of losing their father and husband really touched my heart."
The Halls are committed to making a difference through their support for the RMH Foundation and the Hahn Cancer Center.
Amelia believes telling the stories of people who have struggled with cancer is what touches people's hearts and prompts them to take action. She also believes in the strength that comes when people join together to make a difference.
 "My hope is that collectively we can make an impact, helping our friends and families, as well as those whose stories have touched our lives through our practices. If everyone does a small part, together we can make a huge difference" she says.
"I considered it a real honor to serve the RMH Foundation," Amelia says. "As someone who worked in a local dental practice for a quarter-century, I'm naturally interested in health care in general, and I think this foundation does an excellent job of raising money to support all aspects of care at the hospital. I had no idea how important the foundation's work was until I joined. I'm hoping I can make a difference, too, by serving on the board."
Reflecting on her own efforts to sup­port cancer care, Amelia notes that there's hardly a family or even an individual who hasn't been touched by cancer in some way—either as a cancer patient or as the relative, friend or co-worker of someone battling the disease.
"My own story and the stories of oth­ers have really inspired me," Amelia says. "When you're so directly touched by some­thing, you want to do something to help. It makes you more passionate about support­ing the cause."
RMH Foundation Board Member, Paul Riner is #Dedicated to Giving Back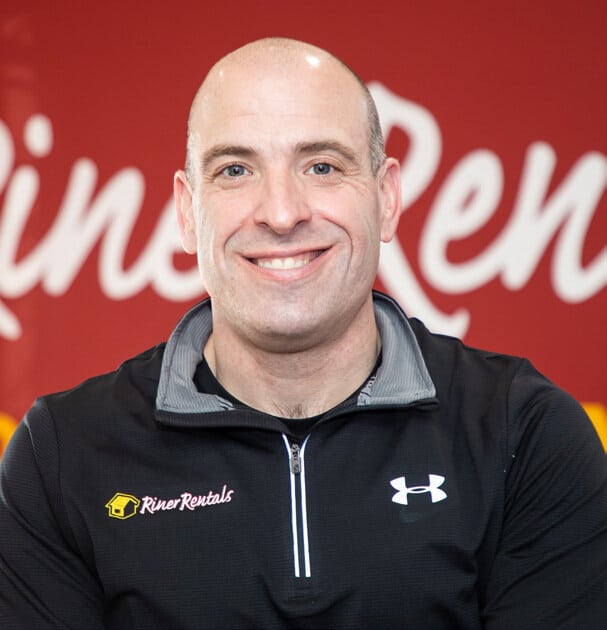 Although neither a physician nor a professional social media influencer, Paul Riner has managed to find ways to connect the two fields to provide valuable support for healthcare services in the Harrisonburg area - all via the simple hashtag.
"There's no act too small if it means supporting your local hospital, "' says Riner, a Rockingham County resident and board member of the RMH Foundation, the fundraising arm of Sentara RMH Medical Center. It's with this mindset that he and the company he owns, Riner Rentals of Harrisonburg, achieved a pair of notable successes this past year, thanks to the savvy use of social media hashtagging.
Click here to read more from this Sentara RMH Spring 2021 magazine article. 
Our Impact
Donors have directly made a huge difference in my life and the lives of my patients. Providing scholarships and financial assistance to continue my education and have access to state-of-the-art equipment is a game-changer.
Charity Trissel
RN Sentara RMH Medical Center
Seeing sick patients get better because of superior, new technology never gets old. Relief, hope and joy—those are hard to measure, but easy to see.
Laura Kavanagh
Regional Oncology Director, Sentara RMH
It's difficult to admit you need help. When that help comes at the exact right time and place, it feels like more than help, it feels like a miracle.
Patient
We chose to support the RMH Foundation through our estate because we wanted to give a gift that grows and helps here in our community. I feel good knowing my family, friends and neighbors will benefit from my gift for years to come.
Pat Messner
RMH Foundation Donor
Help provide extraordinary care, close to home.