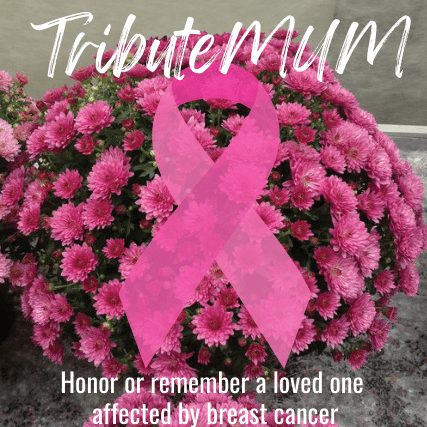 Race to Beat Breast Cancer 5K registrants have the opportunity to purchase a TributeMUM in honor or memory of a loved one affected by breast cancer. Proceeds from the sale of TributeMUMs will benefit the RMH Foundation and the Sentara RMH Funkhouser Women's Center to provide free screening mammograms to patients in need - regardless of their insurance status or ability to pay.
If you have not yet registered for the 21st Annual Race to Beat Breast Cancer 5K Run/Walk to be held at Westover Park in Harrisonburg on Saturday, October 21 go here to register: https://www.harrisonburgva.gov/beat-breast-cancer-race. No outside sales of TributeMUMs will be accepted, except for those already registered to participate in the Race to Beat Breast Cancer 5K event. 
Each TributeMUM purchased will include a pink ribbon affixed to the mum and personalized with name of the person being honored or remembered - please limit two names per mum.
All mums will be placed inside the Westover Park gymnasium on race day (Saturday, October 21) for the opening ceremony. 
Race participants purchasing a TributeMUM must take their plant home with them at the conclusion of the race. The RMH Foundation will not personally deliver or ship mums, or hold them at our office for pick-up after the event. 
Mums will be potted in 8" pots and wrapped with soft pink foil. The specific mum variety is Paradiso Pink, a late season bloomer... vibrant and full of blooms just in time for race day!
Final day to order your TributeMUM is Thursday, October 19. Order yours today!
Contact Ben Craig in the RMH Foundation office at: bxcraig1@sentara.com or (540) 689-8543 should you have any questions.